Drone Inventory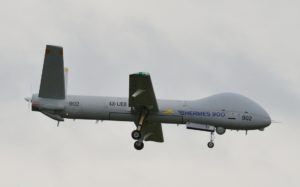 Drone
Hermes 900 UAV
Type
Medium Altitude, Long Endurance (MALE) UAV
Manufacturer
Elbit Systems
Owners
Israel
Endurance
36 hours depending on payload
Loaded Weight
970kg
Payload Capacity
300kg
Range
1,000km+
Sensor Options
IR and EO cameras; GMTI; SAR; ELINT; EW and laser designator
Weaponry
Internal bay and wing hardpoint options, including four Rafael Spike anti-tank guided<br /> missiles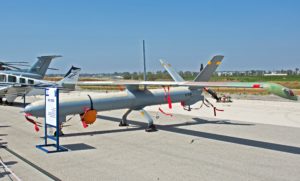 Drone
Hermes 450 UAV
Type
Medium Altitude, Long Endurance (MALE) UAV
Manufacturer
Elbit Systems
Owners
Israel
Endurance
17–35 hours depending on model and payload fit
Loaded Weight
450kg
Payload Capacity
180kg
Range
300km (limited by line of sight to ground control station)
Sensor Options
IR and EO cameras; GMTI; SAR; ELINT; EW and laser designator
Weaponry
Option for four Rafael Spike anti-tank guided missiles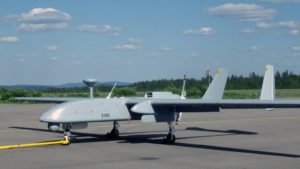 Drone
Heron TP UAV
Type
Medium Altitude, Long Endurance (MALE) UAV
Manufacturer
Israel Aerospace Industries
Owners
Israel
Endurance
30+ hours
Loaded Weight
5,670kg
Payload Capacity
2,700kg
Range
1,000km+
Sensor Options
IR and EO cameras; ground moving target indicator (GMTI); synthetic aperture radar (SAR); electronic intelligence (ELINT); electronic warfare (EW) and laser designator
Weaponry
Potentially capable of carrying Rafael Spike anti-tank missiles or other weaponry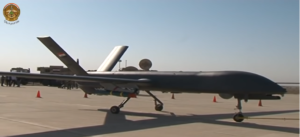 Drone
CH-4B Rainbow
Type
Medium Altitude, Long Endurance (MALE) UAV
Manufacturer
China Aerospace Science and Technology Corporation (CASC)
Owners
Jordan, Saudi Arabia, Iraq
Endurance
Up to 40 hours depending on payload
Loaded Weight
4500kg
Payload Capacity
345kg
Range
>1000km with SatCom, ~150km from Ground Control Station (GCS) if not.
Sensor Options
Infra-Red (IR) and Electro-Optical (EO) cameras, and laser designator in sensor ball.
Weaponry
'A' Variant is Unarmed. 'B' carries up to 345kg of payload on 4-6 wing hardpoints including: the AKD-10 air-to-surface anti-tank missile, BRMI-90 90mm guided rocket, FT-7/130 130kg glide bombs, FT-9/50 50kg bomb, FT-10/25 25kg bomb, GB-7/50 50kg precision-guided munition (PGM), and GB-4/100 PGM.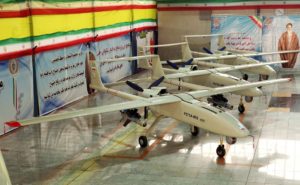 Drone
Mohajer-6
Type
Medium Altitude, Long Endurance (MALE) type UAV
Manufacturer
Ghods UAV Industries
Owners
Iran
Endurance
Est. 16-24 hours depending on payload carried
Loaded Weight
Est. 1000kg
Payload Capacity
Est. 200kg
Range
150km (limited by line of sight to Ground Control Station (GCS))
Sensor Options
Infra-Red, Electro-Optical, and Laser designator
Weaponry
At least two Sadid 345 anti-tank guided missiles (unlicensed copies of Rafael Spike)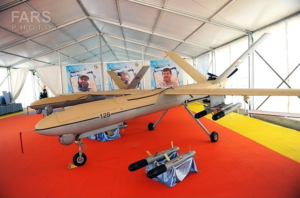 Drone
Shahed-129
Type
Medium Altitude, Long Endurance (MALE) UAV
Manufacturer
Shahed Aviation Industries
Owners
Iran
Endurance
15-24 hours depending on model, payload fit
Loaded Weight
Est. 400kg
Payload Capacity
Est. 150kg
Range
150km (limited by line of sight to Ground Control Station (GCS))
Sensor Options
Infra-Red, Electro-Optical, and Laser designator
Weaponry
Option for 4 x Sadid 345 anti-tank guided missiles (unlicenced copies of Rafael Spike)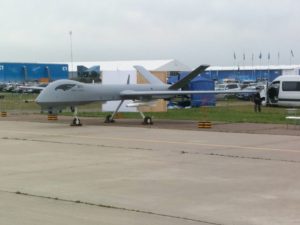 Drone
Wing Loong
Type
Medium-Altitude Long-Endurance (MALE) UAV
Manufacturer
Chengdu Aircraft Industry Group (CAIG)
Owners
United Arab Emirates
Endurance
20 hours
Loaded Weight
1,100kg
Payload Capacity
100kg
Range
>1000km with SatCom, ~150km from Ground Control Station (GCS) if not
Sensor Options
capable of being fitted with a variety of sensors, including a forward-looking infrared turret and synthetic aperture radar
Weaponry
Up to 100kg of payload on two wing hardpoints which can include: AKD-10 air-to-surface anti-tank missile; FT-9/50 50-kg bomb; FT-10/25 25-kg bomb; GB-7/50 50-kg PGM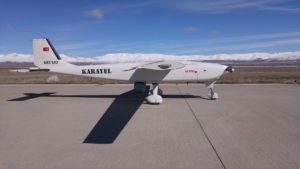 Drone
Vestel Karayel-SU UAV
Type
Tactical UAV
Manufacturer
Vestel Defence Industry
Owners
Turkey
Endurance
Up to 20 hours depending on payload
Loaded Weight
550kg
Payload Capacity
70kg
Range
around 150km (limited by control range from ground control station)
Sensor Options
IR and EO, laser designator, LRF
Weaponry
Up to two Roketsan MAM-L and/or four Roketsan MAM-C missiles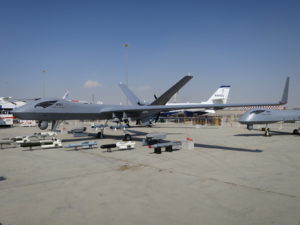 Drone
Wing Loong II
Type
Medium Altitude, Long Endurance (MALE) UAV
Manufacturer
Chengdu Aircraft Industry Group (CAIG)
Owners
Saudi Arabia, United Arab Emirates
Endurance
Up to 32 hours depending on payload
Loaded Weight
4200kg
Payload Capacity
480kg
Range
>1000km with SatCom, ~150km from Ground Control Station (GCS) if not
Sensor Options
Infra-Red (IR) and Electro-Optical (EO) cameras, and laser designator in sensor ball
Weaponry
Up to 480kg of payload on twelve wing hardpoints which can include: AKD-10 air-to-surface anti-tank missile; BRMI-90 90-mm guided rocket; FT-7/130 130-kg glide bombs; FT-9/50 50-kg bomb; FT-10/25 25-kg bomb; GB-7/50 50-kg PGM; and GB-4/100 PGM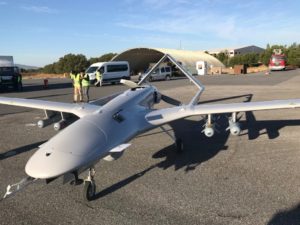 Drone
Bayraktar TB2 UAV
Type
Tactical UAV
Manufacturer
Kale-Baykar
Owners
Turkey
Endurance
Up to 24 hours depending on payload
Loaded Weight
650kg
Payload Capacity
55kg
Range
150km (limited by control range from ground control station)
Sensor Options
IR and EO camera, laser designator, laser range finder (LRF)
Weaponry
Up to four Roketsan MAM-L/MAM-C missiles